For 25 years, the Goddesses and Adoni of Athena's have shown great pride in creating a safe and empowering environment for candid discussions about sexual health, self care, self love and body positivity. Is now your time to join us on our quest to make the world a more satisfying and passionate place?
As a Goddess or Adonis you will:
Receive complete online training
Be provided with your own personalized website
Be fully supported by the Athena's home office staff
Party and sell for a paycheck
Make new friends & change lives for the better
Play SPIN WIN BEGIN with Jen to win fabulous demo items after training
People attend our parties and find themselves interested in joining the company. If you've hosted or attended a party, you know how much fun they are and the way our products make people happier and healthier. If you are an avid Athena's fan, wouldn't it be great to make money talking to people about how much you love it? As a Goddess or Adonis, you'll bring people together and show them how to make their love lives better than ever. Along the way, you will change your life too!
What does a goddess/adonis do?
Athena's parties create connections. Our Goddesses and Adoni show folks romance enhancing products and share tips to make a person feel more connected to their own body and the body of their partner! Part time or full-time, here's how they make a meaningful income!
the live party experience
Goddesses and Adoni lead educational and entertaining in-person, in-home parties where they present Athena's products to the host and their friends. These parties are a fun night filled with friends and laughter. After the presentation, the Goddess or Adonis takes confidential orders from the party guests and rewards the host with free products. 
virtual parties
and website sales
Some Goddesses and Adoni work their businesses online! Athena's provides 2 personal websites that are open 24/7 so orders can be placed easily by clients when and how they want. Also, there are virtual parties where products and tips can be shared with guests who log in from everywhere!
Goddesses and Adoni provide the unique opportunity for others to start their own Athena's business. Encouraging folks to work when and how they want while selling products they are passionate about creates even more success and connection. Building a team opens up a new revenue stream while fostering meaningful friendships. Our leaders feel a sense of purpose when helping others succeed.
Three steps to starting your Athena's business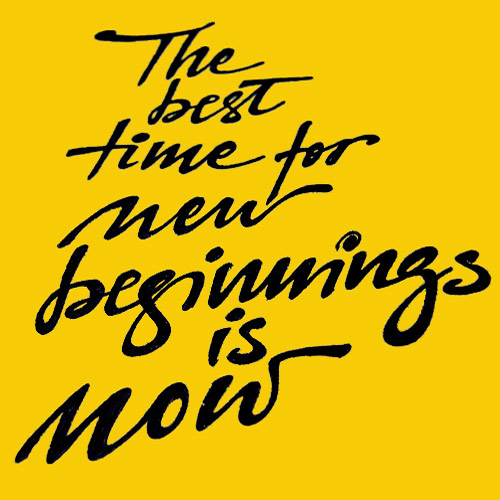 Choose your path. Join for $29.95 and build your demo kit later, or choose our Premium Kit for $279 and receive $500 in retail products. Next, you pick your plan. Do you want to carry stock to sell at your parties or would you rather not carry inventory?
CLICK HERE to learn more about our two plans!
You're going to love learning about running your business. We'll teach you everything you need to know about the benefits of sex toys and how to place your orders! You will have endless support from your leader and the company throughout your journey!
You can choose the $29.95 option and purchase whatever it is you want for your demonstration kit after training. If you selected the Premium Kit for $279 you have what you need to conduct a joyful party. Then the real fun begins! Tell the world about your new business! Host your own launch party and book parties with your friends and the people you meet! 
Sell Products You Love,
To Earn that money, honey!
Start earning meaningful money around your schedule with Athena's. You decide when and how much you work. You can choose a part time or full time party schedule. It all depends on your financial goals.
You decide when, how much you work and how many parties you book.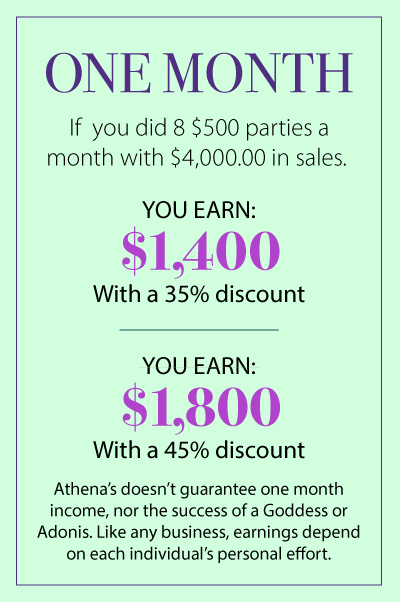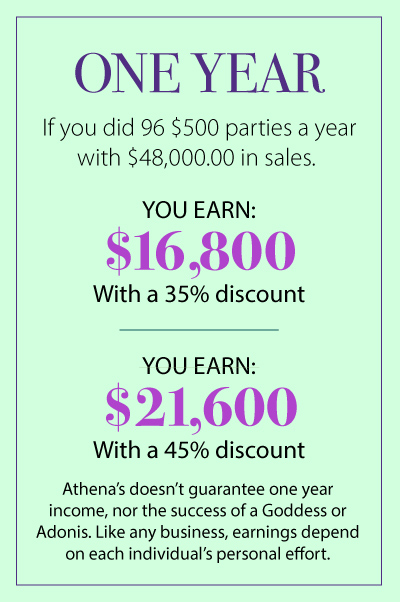 *ONE PARTY | ONE WEEK | ONE MONTH | ONE YEAR | *Results are not typical. Owning a business requires time, energy, resources and perseverance to make money. Athena's does not guarantee income nor the success of a Goddess or Adonis. Like any business, earnings depend on each individual's personal effort.
Wait till you hear about our incentives!
Besides the income you will generate at parties, you have the chance to earn free products, CA$H, jewelry and vacations! Check out our incentive flip book for the many ways you can live your dreams!
Congratulations to the Top New Goddess
of 2022 –  Sierra Young
Will you be the
top new Goddess or Adonis
of 2023?
Each year Athena's awards one lucky NEW person the title of Top New Goddess/Adonis! The winner receives a $1,000 Macy's gift card and a key to our $10,000 Treasure Box!