Together we can do our part to rid the world of hate and oppression. With less of that, there is more room for love! 
It has been our mission to provide a safe and uplifting space for all who represent Athena's. We believe in sexual health discussions that are based in equality, respect and inclusion! During PRIDE month and every month we are loud and proud about our amazing LGBTQIA+ folks.
There are many meaningful ways to show your PRIDE! Athena's has made an annual donation to the TREVOR PROJECT. Their mission is to provide support and services to young people in the LGBTQIA+ community. Suicide prevention among young people is something we are passionate about.
What are you passionate about? Mental health, equality, homelessness? Seek out organizations in your area and find out how you can help! Your passion can make a difference!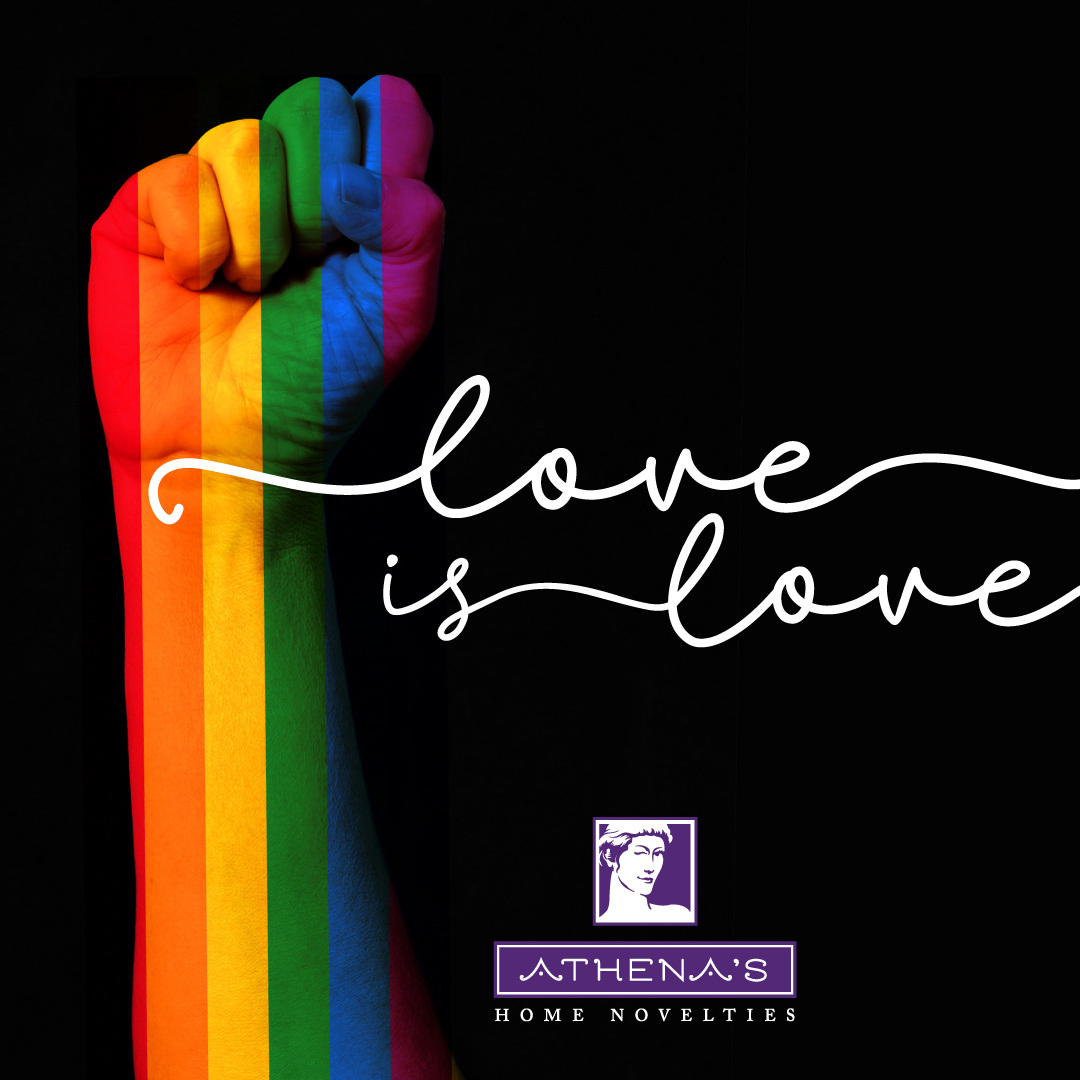 In an effort to create a world that is educated about and accepting of LGBTQIA+ folks, you can strive to be an ally.
-Be open minded.
-Promote the idea that all persons regardless of sexual orientation, gender identity or gender expression should be treated with dignity and respect.
-Engage in a culture that is free of homophobia, biphobia and      transphobia.
-Share your pronouns and respectfully ask others for theirs.
Athena's is a welcoming sex positive community. During PRIDE month and every month,
we honor our LGBTQIA+ office employees and the Goddess/Adoni/Gadoni in the field!
Their love and commitment are gifts to our diverse, inclusive environment.
Here are some of the amazing folks who make Athena's a special place to work.  
"I love the EQUALITY here at Athena's. As the drag Queen "Gadonis" for 8 years, I am able to truly be myself and be accepted for my boisterous personality. Athena's makes you feel like an asset not just a number. I have found my tribe here."
– Brett, New Hampshire
"I've enjoyed being a Goddess with Athena's for 17 years! I take great care in educating about

bodies

, their interactions and dispelling

misconceptions

. Being a bisexual Goddess allows me to speak from a more informed place. One in which I can give personal testimony to the use of our products with myself and past partners regardless of gender. The education I've both given and received during my time here always comes in an open and welcoming manner and I think that has made all the difference in my journey."
– Roni, Massachusetts
"Being a LGBTQIA rep for Athena's has been an incredible experience. In this very open and rewarding company, I have enjoyed many Top Sales achievements. I am proud to have been the first Adonis to make it to the Top 10 for sales nationwide! I also have met people who became my best friends. Is this really work when you have fun and love what you do? 
I say join the Athena's family and feel the love!"
– Ryan, Pennsylvania
"I have been an Athena's Goddess since 2009. Being with this amazing company has changed my life. I have confidence that I never had before. I've made friends for life. I have taken vacations and taken care of my family without worry. Athena's is a major part of my life and I can't imagine my life without it!"
– Melissa, Massachusetts
"Athena's has given me a place to thrive and be my authentic self. My business has reached the entire country. My peers have honored me as the Most Admired Leader. I've traveled to multiple countries. I am traveling to Ireland and Amsterdam as you're seeing this! I've become a strong, powerful person with courage to do anything I put my mind to. Athena's helped me mold myself into a better person entirely. Thank you Jen and Athena's for giving people like me a place to shine bright."  
– Thomas, New Hampshire
"As a 20 year veteran Goddess, I have been lucky to see the evolution of products and our company. I was one of the first open and out Goddesses doing Pride events in my city. I had the joy of testing Her & Her products with my partner. My team, the Pirates of Passion, was the first to recruit and support a trans Adonis. We set a precedent ensuring that titles matched future folks present in Athena's today. I facilitated demonstrations and trainings to the company on harnesses, inclusivity and how to do the best party for any couple or orientation. I was even lucky enough to speak at college campuses on sex and sexuality over the last two decades. I am proud of the diversity and inclusive family that Athena's continues to be in 2022!"
– Jen, Western Massachusetts
"Five years ago, I took a leap of faith and joined Athena's – this ended up being one of the best decisions of my life. As a gay man I never fully felt safe in most environments. Through Athena's I found a company that not only allowed, but celebrated LGBTQ people. I have worked for many companies in my career, and I've never felt so invited and included. From the start I witnessed LGBTQ individuals winning Top New Goddess/Adonis, Top 10 sales awards and receiving love and support. This gave me hope that I found a place to be myself. And, that was only the beginning.
 Athena's has proved time and time again that it is a safe place. A place that has allowed me to grow and practice self-love, and build my confidence. I accept myself more than ever because Athena's celebrated me in ways that others never did. People loved me for me. In the past I always felt out of place, now with the support I have found here, I am finally in the right place."
– Mike, Massachusetts
"What do I love about Athena's? I love the diversity here. Everyone accepts you for who you are. Athena's is all about support and personal fulfillment. I enjoy helping people learn to love themselves. And in return it reminds me to love myself. You're never too old to love yourself."
– Marsha, Massachusetts
"I have known about Athena's for a long time but learned so much more when I started working with another goddess helping her with her events. When I realized it wasn't just a company but a family I knew I had to join! It has given me the freedom to express myself as well as educate others."
– Billy Lackey, aka Lindsay Williams, Massachusetts